Quality issues in China; what are the causes and how can you prevent them?
Manufacturing in a country like China is cost attractive, but it comes alongside with potential quality problems. Maybe you have already experienced it, you just had a product produced in China and it turns out to be completely different or it doesn't even function properly as it should. But what is the reason for this? What shortcomings cause the quality problems in the production? And most importantly, how can we prevent this? In this blog we will give you a top five of the most common quality problems when manufacturing in China, what you should pay attention to and what JDLsourcing has to offer when it comes to avoiding these problems!
1. Manufacturer production errors
If the production staff of the manufacturer has made production errors on a large scale, the factory will look for solutions. In most cases, the factory's priority will always be to find the most cost-friendly solution for them.
First, the manufacturer will consider the long-term potential of the customer. Is it an important customer or is this a customer that can be replaced easily? If the customer can be replaced easily, the factory will still try to deliver the good to you. Once the goods have left the port and the balance payment has been made, it is a nearly impossible process to get your money back.
JDLsourcing can help, as your production partner, to spot these potential errors in an early phase while your products are still in the factory. You have a much stronger negotiation position if the products are still at the manufacturer and the remaining payments still need to be paid. In addition, our local team will give transparent "real-time" updates of your production. This way the manufacturer can't just let you down.
2. A (too) low price often also means low quality
When a manufacturer offers you a very low price for manufacturing your products in China, it can be very risky. Negotiating a very low price isn't always a good idea. The manufacturer might have to earn his profits by neglecting the end quality of your product. Therefore, it is very important that you have the experience to see when you have reached the bottom price during the negotiation process. A manufacturer in China will never reject an order, they will simply prefer to deliver lower quality with a relatively lower price. A factory in China will never admit that something is too difficult for them to deliver at your targeted price.
JDLsourcing is therefore in close contact with our local team in China, which is negotiating directly with the manufacturer. They have the required experiences to negotiate the best prices without neglecting the quality of the end product.
Picture 1: Typical example of neglecting quality/finishing of your product.
3. Production errors caused by high working pressure
In China, each manufacturer deals with low and high production seasons. In general, there are two periods which almost always ensure an overflowing production line. These periods are in July, September and the period before Chinese New Year. Because of the demand for stock by the retail markets, there is a high demand of production capacity during July and September. The overcrowded production lines in the Chinese New Year period are caused by the fact that many companies want to ship out their products before the holiday starts.
Most Chinese manufacturers want to close their year as good as possible. This also applies to the sales employee who is desperate to catch as much commission fees as possible before the year is over. Therefore, the most concessions on quality take place in these periods. When the employees can't handle the pressure of the overcrowded production lines, it is easy to say that this leads to multiple quality problems in comparison to a lower workload.
These quality concessions can be prevented by quality controls within the production process. As a production partner, JDLsourcing ensures that these problems will be prevented by sending our quality inspectors to the factory during the production process to spot these potential errors in an early phase. In addition, we will also prepare a clear production planning.
4. Commission focused sales employees
A sales employee at a Chinese manufacturer usually works for a fixed wage per month and receives commissions on all orders that they receive. This is a proven system to motivate your employees, but it also has a counterproductive effect. These sales employees become too focused on collecting as much orders as possible. As a result, less attention will be paid to the desired quality and delivery time as requested by the customer. In addition, the manufacturer puts pressure on the sales employee to get the customer as quickly as possible. In this way, the factory has their order as fast as possible and the sales employee gets their commission.
This often happens to companies that decide to find their manufacturer through online platforms like Alibaba. A hungry sales employee, or even worse, a "trading company" pretending to be a manufacturer will reply your inquiry. They will promise you quick lead times and high quality just to get your order as soon as possible and that there is no way back for you.
Unfortunately, if you want to manufacture your products in China, this problem sadly happens way too often, but JDLsourcing knows how to avoid this problem! We prevent these issues by visiting and verifying the manufacturers before we decide to do business with them. The ability to send one of our quality inspectors out to visit the factory allows us to make calculated decisions. In this way, we ensure that your product is expected to be delivered and that you don't pay for a lower quality or a product that doesn't even function properly.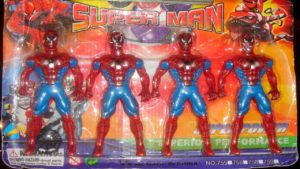 Picture 2: Superman or Spiderman?
5. Quotations and invoices
When purchasing in China, buyers are often confronted with blanc and simple quotations without clear or detailed product specifications. These quotations/invoices virtually don't contain any quality conditions or agreements. By issuing these limited offers, the manufacturer gives himself a lot of space to play with the quality of your product. For example, if no agreement is made about materials of a frame, the manufacturer can decide to use cheaper material in order to increase his profit as much as possible. As a result, the product might look good on the outside while being a complete mess on the inside. This can become a big problem for our European quality standards.
The assumption that a sales employee will say "NO" when something is not possible is a typical beginner's mistake in China. All specifications of your product must be described in the quotation and invoice so that you will not face unpleasant surprises. We also recommend to double confirm this by discussing the details face-to-face or through Skype. However, in some case face-to-face agreements have no value in China.
In the West, the people (in my opinion) tend to look a bit down upon Chinese sales employees. Therefore, people generally do not expect a very detailed and well written invoice or quotation. As a result, quotations and invoices that lack detailed specifications are accepted because people assume it to be the way of doing business in China.
Our experienced team in China ensures that the product specifications are understood by the manufacturer. They can communicate face-to-face in the local language and draft manufacturing contracts with al required product specifications.
For more information about producing in China, please visit our 'manufacturing in China' blog.
Contact us now in case you have any questions or in case you would like to receive a tailored quotation for your project. Our team of experts is ready to help you produce your products in China succesfully.