Never forget your face mask
Discuss your project with one of our experts?
Keymask®: Face mask keychain
Keymask is the perfect storage keychain for your face mask.
Keymask® is a registered robust aluminium keychain with a washable 2-layer face mask inside. Prevent fines and contamination! Available in multiple colors and with your own laser engraved logo.
Face masks, unfortunately they have become part of our daily routine. However, many of us still forget to bring them. This can result in high fines and unsafe situations. With our Keymask you always have your face mask safely stored on your keychain in your pocket. Keymask is your facemask storage keychain. Click here for more information.
KEYMASK® FACTS:
2-laags katoen zwart mondkapje met verstelbare oorlussen.
Scientists have warned that face masks are exposed to germs and viruses if they are stored inside pockets or bags without a case (Yale school of public health). Store your face mask safely inside your Keymask!
Fits on your keys and inside your pocket.
Lightweight and robust keychain.
100% waterproof.
Prevent fines and contamination.
Registered brand/model.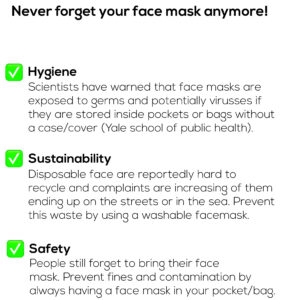 Are you interested to produce custom Keymasks? Or are you interested to learn which other products JDLsourcing can produce for you? Feel free to contact us! Or take a look at our other projects here.